Want to scratch beneath the surface of a city? Who better to ask than a former anthropologist? Especially one who has spent two decades living in said city; bringing up her two daughters around Greek traditions; and penning several best-selling novels set in Athens. London-born Sofka Zinovieff, author of "The House on Paradise Street", global bestseller "Putney", and the memoir "Eurydice Street: A Place in Athens", studied social anthropology at Cambridge and researched her PhD in Greece. It was the beginning of a lifelong bond with the country. Especially Athens, where she still lives in Vouliagmeni on the Athens Riviera, with her Greek husband Vassilis. Here, as she prepares to launch a new podcast series "Athens Unpacked" for This is Athens, Zinovieff shares some snappy tips for digging beyond the Acropolis—to the heart and soul of this captivatingly complex city. Subscribe and listen to the podcast here.
You've called Athens home for 20 years. How has your relationship with the city changed and matured since you first moved here from England?
I've had several phases in my relationship with Greece. I first came as a research student in the late 80s, learnt the language and became involved with the place. During the last two decades, my relationship with Athens has been like a marriage – committed and based on love, but with squabbles and occasional rough patches.
What's the most common misconception people have about Athens that you'd most like to correct?
People often visit during the hottest time of year, in a rush on the way to an island. Athens appears impenetrable and overheated. It's a completely different city at other times of year and can't be rushed. I'd advise talking to locals and adopting their timetable (not going out during the middle part of the day in summer). I'd also suggest that it's the perfect city to visit in autumn, winter or spring.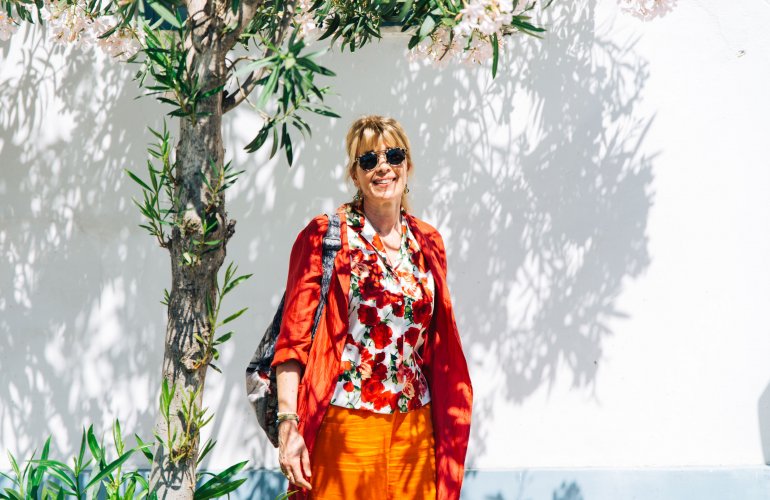 Athens is a hectic metropolis with the heart and soul of a village. Would you agree with this statement and if so, how does that village vibe manifest?
Yes, Athens has been settled by villagers ever since it became the capital of modern Greece in the 1830s. Even today, most people have roots elsewhere and return to their village or island. And that's before we look at how neighbourhoods can be quite villagey, designed around their plateia (main square) with a traditional coffee-shop and church, etc.
Would you classify Athens as a city that's easy to get to know; that reveals itself readily to visitors?
Athens is a mysterious city and sometimes challenging. But many of its charms are readily apparent: the intertwining of the ancient and the modern; the neighbourhoods for strolling; and the fabulous places for eating out are all there and waiting.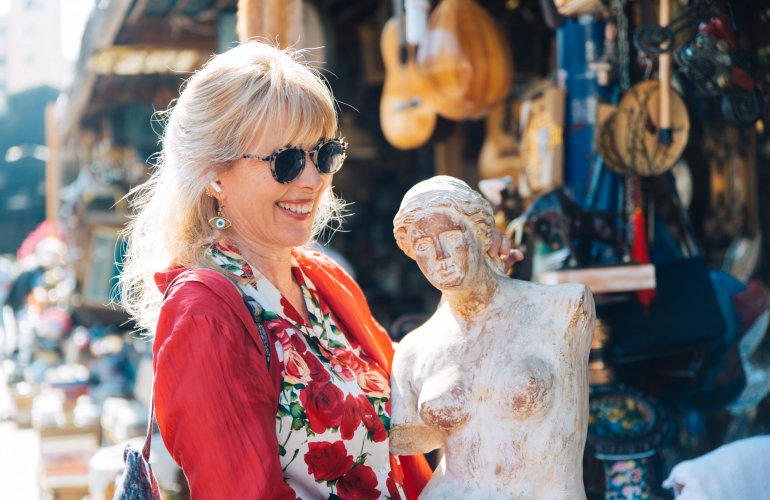 What was your primary goal or message with your debut podcast series, Athens Unpacked?
I believe in scratching below the surface. The more you understand about a place, the more deeply you engage with it. I'm hoping that these podcasts will encourage people to search out the things that make Athens such a fascinating city.
If someone has only 48 hours or a weekend here, how can they best tap into the authentic pulse of Athens?
Stroll around the neighbourhoods. Eat and drink where Athenians do. Pause to notice the details rather than ticking off a list of 'the sights'. And, to get a sense of perspective, go up a hill—I don't mean the Acropolis—there are plenty of others, such as Lycabettus, Philopappou or even a more off-radar one like Tourkovounia (the Turkish Mountains).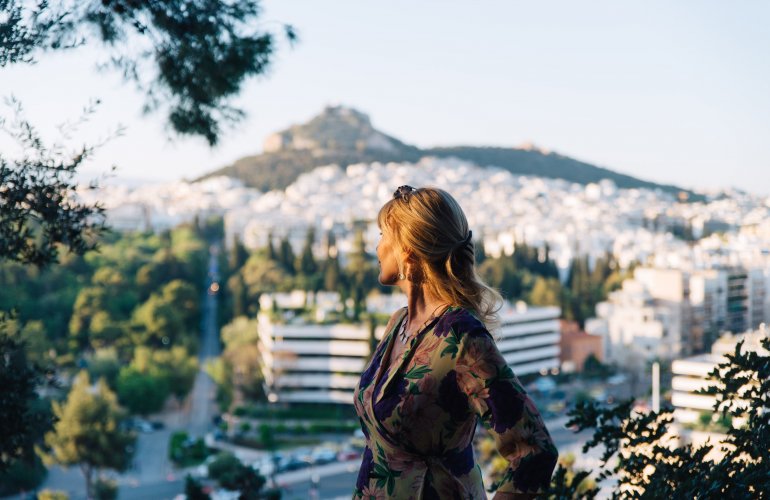 Can you share 2 lesser-known places that truly channel the spirit of Athens?
Wander the length of Aiolou Street—down through the commercial triangle with its revamped boutiques and old-fashioned food shops, past Agia Eirini square with its trendy bars and flower shops, and along to the incredible Tower of the Winds. The street is named after Aeolus, god of the winds. Next head to Mets—the area behind the historic Panathenaic Olympic stadium and beside the beautiful First Cemetery. Quiet and low-rise, it has the lovely park of Ardittos Hill and is a wonderful place in which to stroll.
Wearing your anthropologist hat again, what was the most interesting Athens discovery you made while recording the series?
I loved finding out more about the work being done with refugees and migrants. The area of Kypseli has been transformed in recent years—the municipal market was restored as a multi-cultural enterprise and there are restaurants with Syrian food. It's great to see Athens embracing its most recent arrivals as it has always been a city of incomers.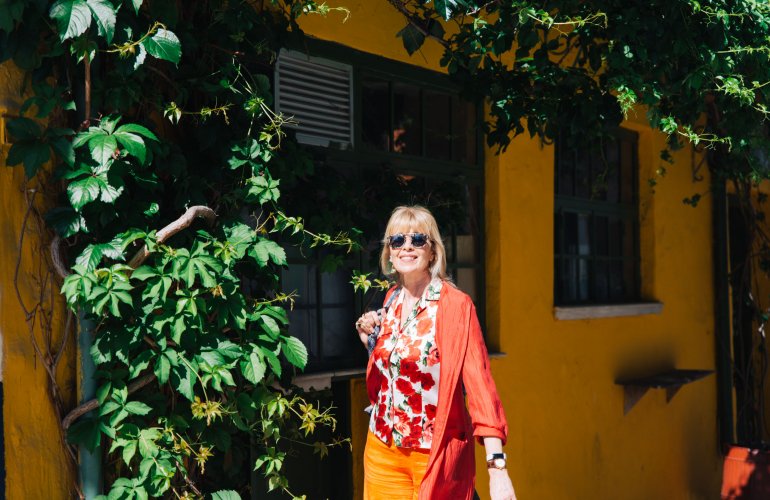 Your favourite quality or trait about Athens?
The generosity of spirit in Athenians.
Which quintessentially Athenian rituals do you engage with (regularly or seasonally) that make you feel the most "local"?
Clean Monday. The first day of Lent when Athenians have a luxurious picnic and fly a kite; having the "evil eye" removed in a little ritual by kind friends or my Greek sisters-in-law.
Your favourite Athenian neighbourhood and why?
So hard. Each has its own charms. For today, I'd go with Pangrati, which has gone from slightly down-at-heel to increasingly hip and filled with little shops, bars and nice restaurants.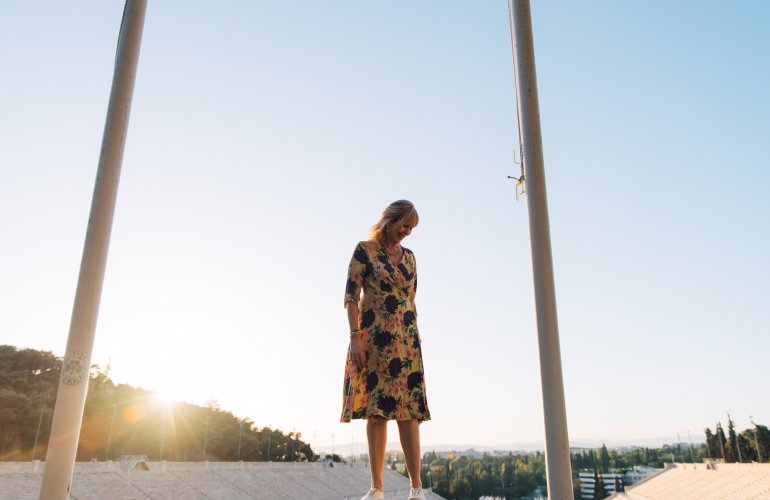 Your favourite time of year in Athens and why?
Halcyon Days—Alkyonides—in January-February. Those weeks in mid-winter when you get wonderful warm, still weather. According to the legend it's when Alkyoni (who was transformed into a kingfisher) was granted conditions to make her nest.
What do you miss most when you're not in Athens? 
Living much of life outdoors, spontaneous social life, the freshness of food, sea swimming.
If you had to Pack Athens, which 3 essential things would you put in your suitcase?
A ceramic pot of Hymettus thyme honey, some handmade earrings in an ancient style and a poem written for me on an old taverna napkin from someone I was dining with.
And if it were up to you, how would you bottle the scent of Athens?
I'd take bitter orange blossom (springtime is intoxicating in Athenian streets), a few herbs like basil and oregano, and for bass notes, frankincense (like walking past a church) and freshly-ground coffee. Pine resin and warm figs come into the equation, as does a whiff of salty skin on a beach.
Finally, describe Athens in 3 adjectives
Intense, seductive, shifting.