"Athens just feels like a breath of fresh air," says Ben Jacobs as he looks over the sleeping city from the roof of his new apartment in Kypseli. Along with a growing community of 'corona nomads' like him, Ben's work and social life in his hometown of London was severely disrupted by coronavirus restrictions. So he began looking for cities where he could still work but enjoy a much more fulfilling existence. Athens came out on top.
Athens has been rising as a destination for digital nomads for several years now; with people from all types of professions, from artists to web developers and online marketers, deciding that the Greek capital offers a winning combination of climate, quality of life and cost of living. When the coronavirus epidemic struck Europe, Greece soon emerged as one of the countries judged to have handled the outbreak best: an early and tough lockdown kept cases low—and as of now, Greece still has far fewer fatalities compared to other EU countries of comparable size.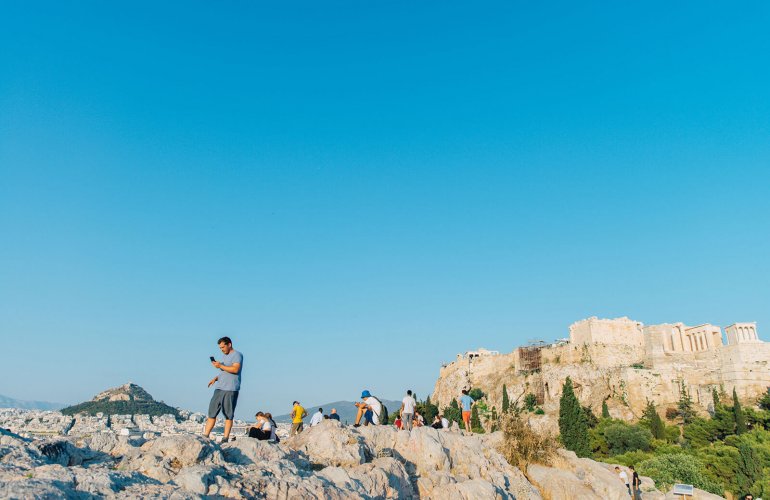 In June, while other countries struggled to contain a spiralling spread of the disease, Greece began to reopen and a "new normal" returned.
"When I saw things starting up again in Greece, I was eager to dip my toe in," explains Isabella Efstathiou, a dancer and performer, also from London. "An out of work artist can't afford anything in London. I couldn't have made a better decision to move to Athens. Life here has been really good for my mental health during this difficult time."
For people now forced to work from home indefinitely, there's no longer any reason to live near the office. So for those with an open mind and the freedom to move, the chance to work and live life with fewer restrictions makes Athens stand out from the pack as a great base to ride out the pandemic—and maybe longer.
We spoke to 'corona nomads' from a range of countries and professions about their decision to move to Athens, the experiences they've had while here, and why they recommend relocating to the Greek capital.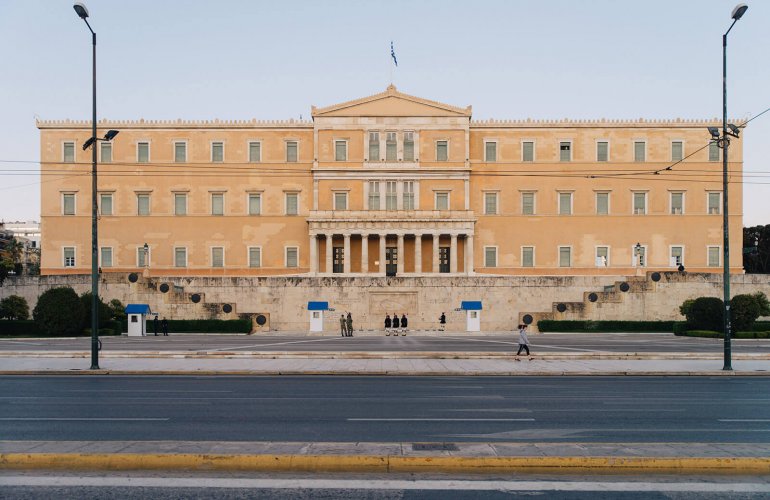 The veteran nomad—Nikhil Kale
For "professional nomad" Nikhil Kale, Athens is far from his first rodeo. The Indian-born Australian has spent the past five years bouncing around the world between Thailand, Bali, Turkey and Italy; working remotely as a 'mystic entrepreneur and business coach' for stints of up to three months.
Since arriving in mid-July, Nikhil, 34, has slotted smoothly into the Athenian groove. In between hosting online business accelerator classes in multiple time zones for his company Akasha Creative, he's been taking afternoon siestas for the first time ("the energy of Athens seems to demand it!"), catching sunsets up on Philopappou Hill, and enjoying long dinners on urban rooftops; riffing on the meaning of life, like a true native.
"Being on the move feels natural and comfortable to me," says Nikhil, over his morning cacao at the Little Tree bookshop café in Koukaki (his favourite Athens "office"). "Before my current career, I worked as cabin crew for the airline industry for nine years." Nikhil opted for Athens after a friend who'd been working here remotely for nine months sang the city's praises; telling him how much he'd enjoy it.
"As a holiday destination, 100 percent, yes," says Nikhil. "But I hadn't really heard much about Athens being a place where you could settle for a while and be productive. Then I thought, it's open, in terms of corona, it's easy to get to, and it's a gateway to Europe. My first working flight was to Athens so I had a positive correlation with the city; it began to feel like there was something here for me."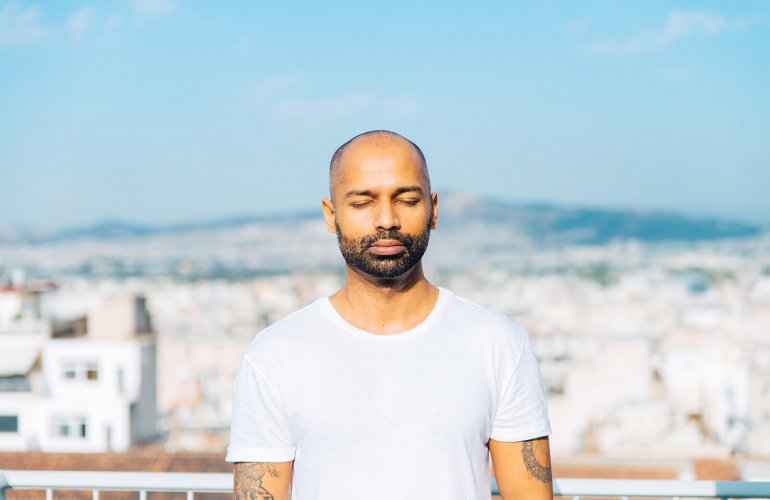 That "something" turned out to be a grounded energy that Nikhil has found extremely fruitful work-wise and an enviable lifestyle, popping off to islands like Syros for a scene change. He's split his extended Athens stay between the seaside suburb of Glyfada and sociable hostel-style digs downtown like Athens Backpackers and the new Selina Theatrou, which has its own jazzy co-working space.
"There's an aliveness in Athens, but it doesn't feel overbearing. It's just busy enough. I feel accepted and safe here. I love connecting to the ancient vibe up on Philopappou Hill at sunset. Afterwards I'll stroll around Thissio or Plaka; then have some wine and great food with new friends and analyze life, which I'm told is very Athenian!"
So what advice would this remote working veteran give others about  relocating to Athens? Says Nikhil: "It's so easy to integrate here—with respect to finding accommodation and beautiful places to work and create."
"There's so much creative inspiration all around you. Ancient artefacts, modern street art. The food is fantastic. There are enough expats to build relationships with. I haven't found it a problem not speaking Greek either. Athenians are very open to foreigners. Everyone goes with the flow here."
(Interview: Amanda Dardanis)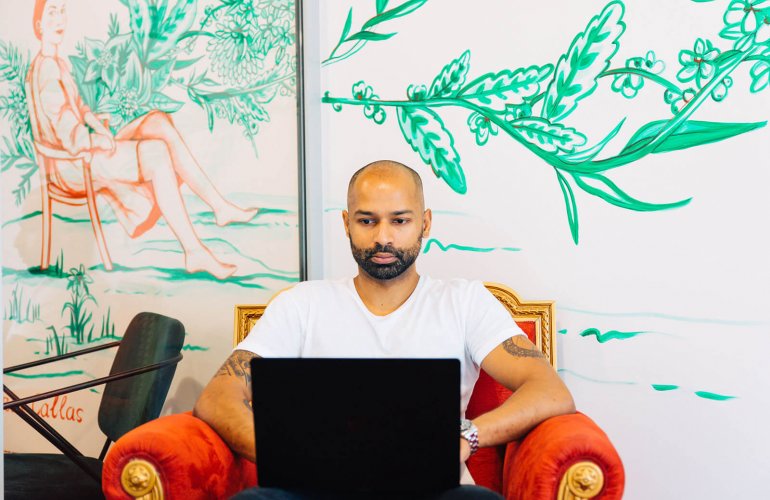 The couple who found their place to be together—Paolo Salvetti and Sara Monty
After suffering Europe's first major coronavirus outbreak, Italy went into a severe lockdown. Citizens were barely allowed out of their houses for four months. Sara, 26, is British but grew up in New Zealand and was working as a middle school teacher and freelance copywriter in Florence, while Paolo, 27, is from northern Italy, and was working in Milan as a freelance social media marketeer. Together as a couple for a year, when lockdown hit, they found themselves separated for four months.
"Normally Italians are so open and friendly but that completely changed during lockdown," Sara remembers. "People just became very, very closed. On the street, nobody was smiling. I was isolated, a long way from friends and family for four months, which was really hard." Eventually, restrictions eased and Paolo and Sara were finally reunited. After spending so much time apart, they wanted a place they could live together, free of the constraints they had endured for months. "Athens is an active city," Paolo elaborates. "We chose it because it's nice and sunny, has beaches close by and there are lots of options to go travelling. We plan to go to Warsaw next, so we wanted to soak up a bit of sun here first."
After such a constrained lifestyle in Italy, they were both surprised at how vibrant Athens felt when they arrived in July and settled into their apartment on the main square of Kypseli. It's an energy shift they have embraced. "When I left Florence, a lot of things were still closed," Sara explains. "Life here is completely different—it struck us how normal things feel. We've been going to a lot of bars and restaurants, eating good food, going to outdoor cinemas. It's really interesting how each neighbourhood in Athens is different—like Exarchia which seems really vibrant; you really see the mix of cultures."
After trying out some co-working spaces, they decided to move from coffee shop to coffee shop in order to soak up more of the city. "We've managed to get a lot done here, working remotely," Sara explains. "It would be great to have more free time to go out and explore but we've still seen a few places outside the city and visited the islands."
The frustrated artist—Isabella Efstathiou
"I was working on a huge youth dance project, I was in multiple drag shows, I was developing a contemporary dance project and planning to take my company LADS on tour around Australia and New Zealand," Isabella recalls. "Then, corona appeared, and all of that was cancelled, along with any future work."
Isabella, 29, is a performance artist and feature choreographer, accustomed to working multiple gigs, seven days a week and being regularly on the move. "Now I have just a few hours of yoga teaching per week," she explains. "The change was drastic and devastating at first. I couldn't teach, I couldn't perform and I had no-one to collaborate with. All things I adore doing. It was really hard to have it all ripped out from underneath me."
In March, she left London and returned to Nottingham to spend lockdown with her family. Isabella is half Greek, half English but grew up in the UK, taking holidays to Greece. When her late-grandmother's flat in Koukaki became available in July, she jumped at the opportunity."Dancers can't sit still, we have to keep training," says Isabella. "After being cooped up in the UK, here I have space to train at home with the free classes that dance schools and teachers have been putting online."
Normally, Isabella would be performing at the big summer festivals and booking gigs for next year. She now faces an empty calendar stretching long into the distance. Yet, with her savings and small income from teaching online yoga and dance classes, she's learned to enjoy a simpler life in Athens; shopping at the laiki, exploring the cool cafes of Koukaki. 
"If there's no work, there's no reason for me to be back in London," she says. "If everything is going to be laptop-based for the foreseeable future, I might as well be here, where the Mediterranean lifestyle is more chilled, the food is delicious, the sun shines for eight out of twelve months of the year and the sea is really close. I'm quite happy to leave the rat race behind."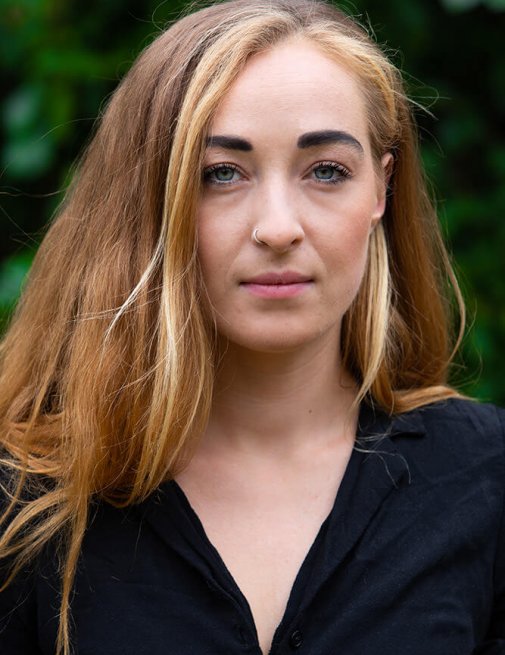 The playwright searching for a muse—Ben Jacobs
Like Isabella, Ben, 32, works in an industry decimated by coronavirus: tourism. As a self-employed London tour guide, he ushered groups around the capital daily, passionately sharing stories and interacting with visitors from all over the world.
"London is great for making money, meeting people and going to events," he says. "But now, with so few tourists, I can't make anywhere near what I used to; while London is still as expensive as it has always been." Facing a long and dreary British winter, with significant restrictions on indoor spaces, Ben's thoughts turned to Athens—in particular, its lively outdoor arts scene.
"Lockdown has forced everything outdoors and that's far less restricting in an outdoors culture like Athens," he says. Aside from tour guiding, Ben is also a writer and playwright, with several works currently in development. Rather than burning through his savings paying rent in London—or switching careers—he decided to relocate to Athens to make his money stretch much further. He arrived in mid-September, just as new lockdowns arrived elsewhere across Europe.
"I've definitely got enough work to keep me busy here," he says. "Athens is now a throbbing and passionate metropolis; a lively stage on the edge of Europe. There's tonnes of inspiration here to create and perform new work."