Seek and you shall find. Sultry Athens may not wear its rainbow hues as loudly as Mykonos or Amsterdam; but the Greek capital has a booming queer scene that's waiting to welcome you with open arms, all year round. Especially in June, when the city celebrates Pride with a saucy line-up of LGBTQ+ parties and awareness-boosting events. From racy nightlife, activated arts and stylish shopping to cheeky bars and beaches, here's how to spend an unforgettable 48 hours in non-stop Athens.
Day 1: Athens Realness
Morning
Fire your engines with a high-octane Greek coffee at Rooster, a short walk from Monastiraki metro. This roaring all-day haunt launched the gay colonization of pretty Agia Irini Square. Join the local peacocks who admire passersby out on the pavement tables (and indulge in the sinfully good banoffee pie).
Once caffeinated, hit the road. Our world-famous Acropolis is non-negotiable—and the walk from Monastiraki is one of the loveliest routes in town (you'll pass ancient wonders like Hadrian's Library and the Roman Agora). Archeology nuts can save with a multi-site ticket that grants entry to other heavy hitters nearby, including the Ancient Agora and Keramikos Cemetery.
Next to the Acropolis Hill, the state of the art Acropolis Museum provides a gripping modern context to Athens' monumental past—so that's going on the list too! Cap off your history lesson with a stroll of the surrounding area and clock mighty relics and poetic sights: such as the Odeon Of Herodes Atticus, the Philopappou Monument on the Hill of the Muses, and Anafiotika, a peaceful Cycladic village hugging the Sacred Rock in Plaka.
Head out of the Historic Centre to experience the urban beat of LGBTQ+ friendly Athenian neighbourhoods: Gazi, Keramikos and Metaxourgio. Follow central Ermou Street all the way down until you hit the old gas factory at Technopolis or take the metro to Keramikos.
Lots of steps equals a Herculean appetite. Slay it at Myrolovos, an LGBTQ+ hangout on Avdi Square, especially popular with women. Order a run of small Greek plates (meze); it's a great way to play the field and try a bit of everything while you soak up the laid back cool of Avdi Square.
Craving Athens' most famous street food instead? Groovy MyPlate in nearby Keramikos Square does superior souvlaki. Or refuel at Beaver, a cosy café and bar run by a women's collective.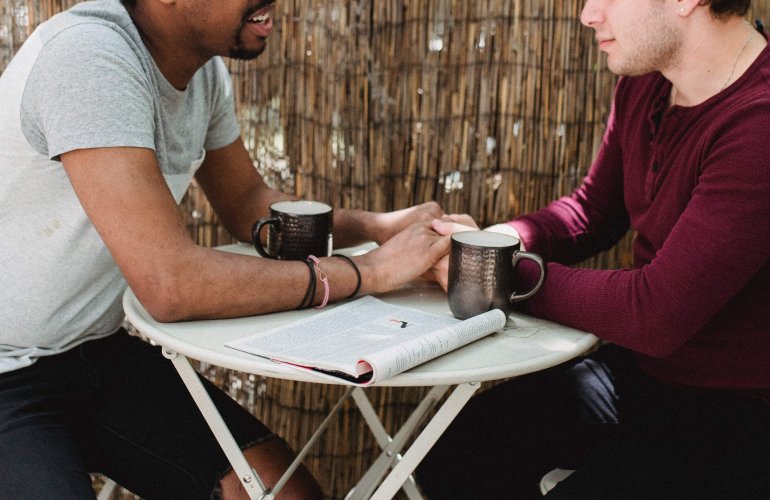 It's not all ancient marble in Athens. The city's contemporary art scene is electric. Ignite your afternoon with a visit to the impressive new National Museum of Contemporary Art (EMST), right near Sygrou Fix metro, and ponder arresting works from the likes of Arte Povera master Jannis Kounellis and Greek-American light art pioneer Chryssa, in the iconic Fix Brewery building. Want more? Check out our guide to Athens' alternative art scene for all the best underground Greek art—and when you're in Gazi, pop over to Technopolis to check out what's shaking (they host LGBTQ+ friendly exhibitions, concerts, markets and pop-up parties all year).
If art's not your bag, how about some retail therapy, Athens-style? Find out where the city's snappiest chaps shop in our stylish boutiques guide—hint, head for Kolonaki—or score hot urban labels (and maybe even a party invite or two) at Athenian street fashion purveyors like Pitch, Dangerous Minds or He-m-n-oid.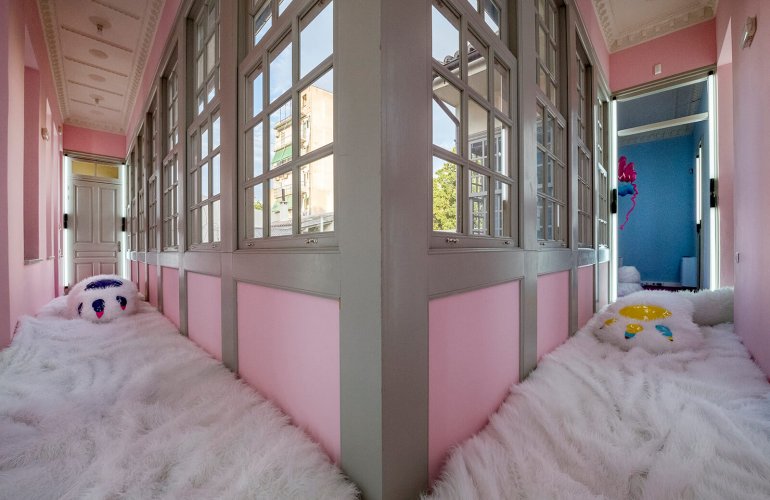 Athenians like to kick-off their (long) nights out with an evening stroll, stopping at their favourite watering holes along the way. Get started at the well-known Shamone, a top spot for clubbing, where drag shows and DJ sets often take place. Similar is Enodia in Gazi, where you can get loose with an older crowd in a small summer garden and listen to all kinds of music. If you want to meet Greek bears, Big Bar nearby serves up a mellow mood, welcoming staff, gay anthems and themed nights—along with rivers of beer.
Don't be a Cinderella. Athenian nightclubs rarely get cracking before midnight and you'll have to wait until after 1am to appreciate queer hotspot, BeQueer, a current favourite for queer Millennials (think Brooklyn drag, not Manhattan). Or go to old-school classic Koukles Club to see archetypal Greek drag in a grunge setting.
Noiz will keep you dancing until the early morning with a mostly lesbian crowd; while Sodade2 is one of the most established gay clubs in town with a mainstream mob and two stages. Celebrities' choice Shamone hosts stellar events, shows and parties. Looking for a younger, more mixed audience? S-CAPE has your name on it.
Also emerging on the Athens circuit are techno parties, with their sole goal of uniting revellers. Throwing some of the best beats and most diverse soirees around right now are Qreclaim and Slam Athens so be sure to check out their social media accounts if you're coming to town. 
Day 2: Kiki by the Sea
Morning
The cherry on top of your Athens city break? The Greek capital has a sun-soaked 50km coastline sprinkled with alluring sandy beaches and glam bars. There's no better place to blast away a hangover (and start work on your next one!).
If you dare to bare, explore Athens' most famous gay nudist swimming spot at Limanakia. Anything goes at flirty Limanakia, a series of rocky bays with knockout waters and hidden corners, about 30 minutes from Athens, between Varkiza and Vouliagmeni. You can also let it all hang out at the northern end of 48, a craggy cove just after the Mavro Lithari hotel, in Saronida. (Top tip: if you're going to non-organized beaches like these, remember to take the essentials: water, snacks, sunscreen and hat.) Locals like to pick up a morning coffee to go and some koulouria (those crunchy bread rings with sesame seeds you'll find everywhere) before they hit the beach.
If you'd rather keep your kit on, join the bronzed and beautiful at a buzzy all-day beach club like Bolivar, just ten minutes from the city in Alimos, or Balux House Project & Balux Pool Seaside further down the coast, in cosmopolitan Glyfada. Both are top picks for a reviving coffee and seaside brunch (Balux also has a slinky adults-only seafront pool). Stick around to witness the chilled morning mood morph into a Miami-style beach bash with live DJ sets on the sand. Or …
(Balux is currently closed and under renovation)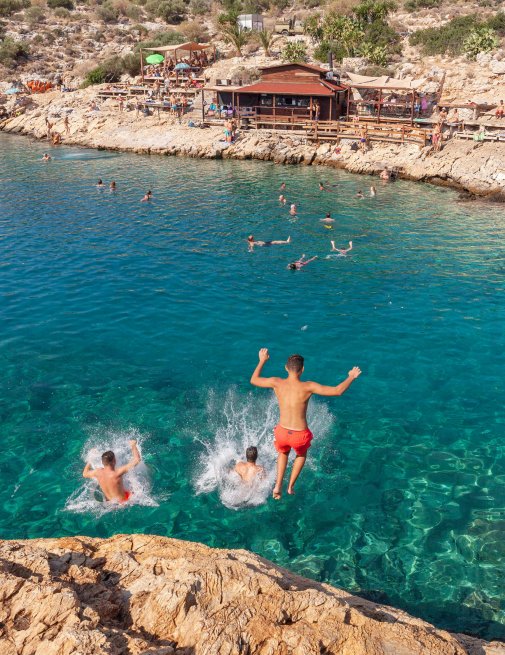 … if you're visiting between May and October, you can pretend you're in Mykonos with a long, rosé-fueled lunch at Krabo, a classy Cycladic-inspired hotspot on a secluded sandy bay in Vouliagmeni (the marinated crab and the beef carpaccio always hit the spot). For more inspiration on great Athens Riviera dining dates for every budget, read our Seaside Sunday Lunch guide.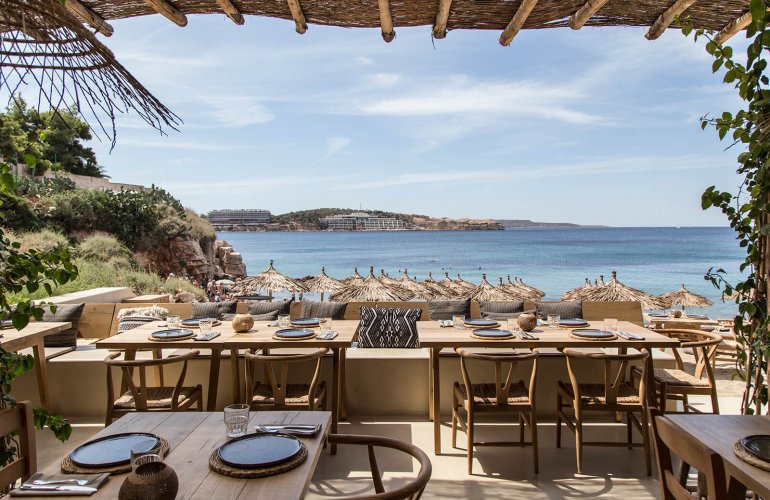 Enrich your final day with some cultural highlights. The Stavros Niarchos Foundation Cultural Centre, designed by Renzo Piano, is a modern architectural masterpiece of sustainability, close to the Athens Riviera. Home to the National Library and Greek National Opera, you'll also find a free year-round menu of progressive entertainment and activated open-air spaces, including Mediterranean gardens and a canal (don't miss the epic view from the solar-powered Lighthouse).
Another proud supporter of LGBTQ+ rights is the Onassis Stegi—who stage cutting-edge performances and exhibitions saluting diversity and queer aesthetics—while the Benaki Museum, with several outposts across town, champions both contemporary and traditional culture. (Top tip: the terrace of the Benaki Museum of Islamic Art is a super spot for a coffee break).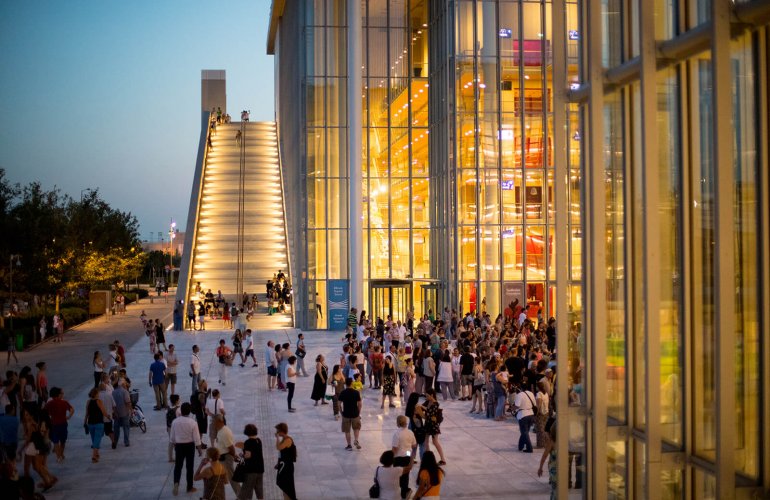 Keep things spicy with an authentic Thai curry at kitsch Tuk Tuk, an instant hit since it landed in the cool Koukaki neighbourhood a few years ago. Or tuck into some Japanese souvlaki, paired with a fiery Japanese whiskey, at hip Birdman, in Syntagma.
Got an appetite for cruising? Try Adult Theater at Metaxourgio, ATTRAXX in the Gazi area or turn up the heat at a sauna: Alexander is a four-storey cruising playground in Gazi, while more modestly-sized Flex in Monastiraki has a rooftop lounge and a Muscle Mary clientele.
Get under the skin of authentic Athens by vibing with locals at non-touristy spaces like ultra-urban BIOS in Keramikos, the lush hidden courtyard of Six d.o.g.s in Monastiraki/Psirri, or nostalgic Mple Papagalos (Blue Parrot) on Metaxourgio Square (you'll love the flirty atmosphere and mellow groove).
Or stay on the move. That's another popular nocturnal pastime for restless Athenians. Wander beloved neighbourhoods and lookouts—like Plaka, Thissio, Monastiraki, Psirri and rocky Areopagus—talking, stargazing, and drinking in the unpredictable fizz of Athens. Who knows what new friends or encounters might await you around the next corner?