Amid the pavement cafés, small bars, high-end restaurants, and traditional tavernas in Pangrati, a 15-minute stroll takes in arthouse cinemas like the Petit Palais and open-air Oasis, the Half Note jazz club, the Pleiades bookstore with a dense calendar of literary events, the counter-culture Skrow Theatre and Twixtlab arts hub. Plus one of the best views of the Parthenon from the last tier of the all-marble Panathenaic Stadium. While Pangrati today basks in the moment of being an 'in' district, this hasn't diluted its charm as a local's neighbourhood.
Odeon
In a district known for its hip cafés, Odeon is the outlier, located just out of range of the Varnava Square cluster. This bistro-like corner café with marble-topped tables and soft lighting has been a Pangrati fixture since 1989, long before 'vintage' became a fad. The café has a beatnik intensity: it's hard to imagine anyone here not having a book tucked into their bags. Reading the Sunday papers over coffee is an enduring ritual for many habitués, but Odeon's mood best reflects the twilight—that sliver of the day between light and night made for sipping an aperitif. The upright piano in the corner isn't décor: Odeon often hosts live music, mostly jazz. The perfect venue for a mellow evening out.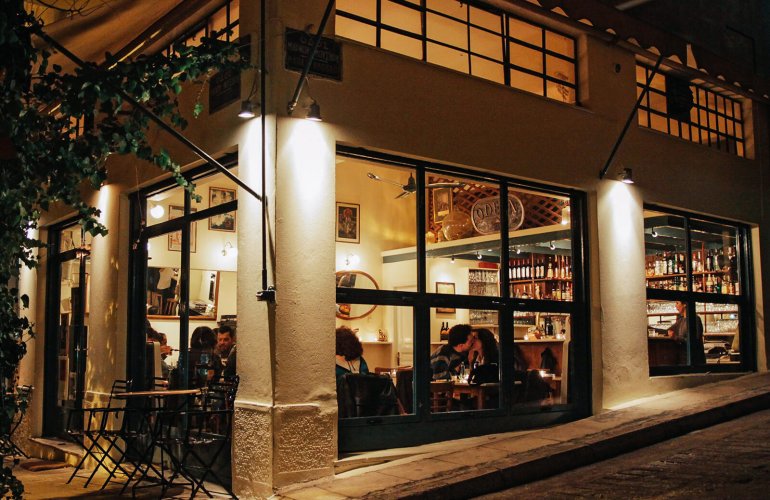 Mavros Gatos
It's hard to recommend Mavros Gatos (The Black Cat) for either its food or its ambience. Yet there's something compelling about this taverna that has kept its clientele coming back for decades. Its charm may be in its insistence on remaining humble in both its menu—classic Greek casserole dishes and grilled meats—and its setting. Especially in the face of flashier, more fashionable offerings available just metres away at Mavro Provato, a popular modern mezedopoleio. But it's homey and has a rare history: the whimsical murals of can-can dancers and, yes, a black cat in tux and top hat are the work of Doris (Mihalis Papageorgiou), a noted caricature artist and painter whose fluid style reflects 1930s Paris, where he paid for his meals with his art.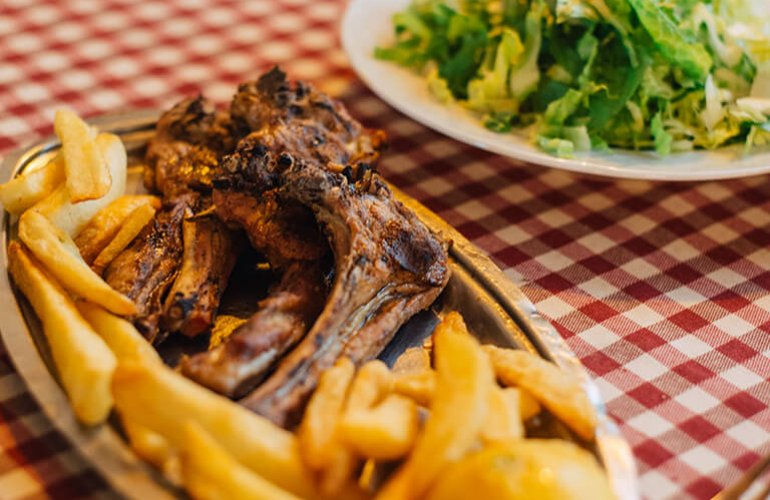 Superfly
Stepping into Superfly is like stepping back in time. Pinball machines, comic books, toy cars, action figures, early game consoles, even tape reels and video cassettes are crammed on the bar, shelves, even table tops. The memorabilia adds to the chummy atmosphere of this café-bar whose offerings match its mood. The vibe matures from thick milkshakes and funk by day, to jazz, soul, and beers (bottled and on tap) in the afternoon, moving onto cocktails, named after 1980s or 1990s blockbuster films, by night. Superfly is Pangrati's coolest bar, and though just a few steps off Platia Varnava, under-the-radar for trend-seekers crowding the lower half of Embedokleous.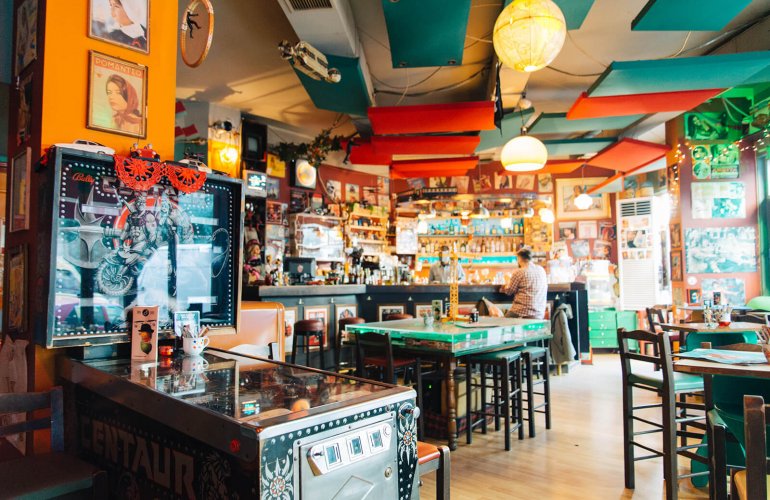 Vassilenas
From workman's taverna in the 1920s to trendsetters' haunt in the 1990s, the celebrated Vassilenas has moved from its original Piraeus location to downtown Athens. A pioneer of creative Greek cuisine, it's a symbol of Greece's rebound from recession. The sleek black décor sets the tone for the stylised 'traditional' fare with a focus on fish and seafood: shrimp tartare, tomato risotto topped with sea urchin, pan-fried red mullet with a rosemary glaze. The wine menu has pride of place, with bottles arrayed in a massive rack that occupies almost an entire wall. Vassilenas is pricey, but upscale restaurants are as much a part of Pangrati as its old-time tavernas.