Always Be Prepared
Walking along the bicycle lane that passes in front of the Petralona train station, one can't possibly miss the green sign with the vintage-looking bike. This, however, is the only old-looking bike you will see at Flat Tyres. Conveniently located in front of Athens' longest cycling route, this small bike rental and guided bike tour office seems to banish a cyclist's worst jinx just by its very name. "May there be no flat tires on your journey," I think to myself humorously right before Stavros, the owner, steps out to greet us. He's holding a backpack full of repair tools and supplies which he straps onto his bike. "Always be prepared," he smiles.
Today we're heading down towards the Athens Riviera. As he hands out trekking bikes, helmets and bottles of water, Stavros makes sure to check with everyone for their level of comfort and cycling experience. He then goes over the itinerary and traffic rules. It's my first time cycling in Athens and I'm really curious to see how it will turn out in a city not exactly noted for being bicycle-friendly.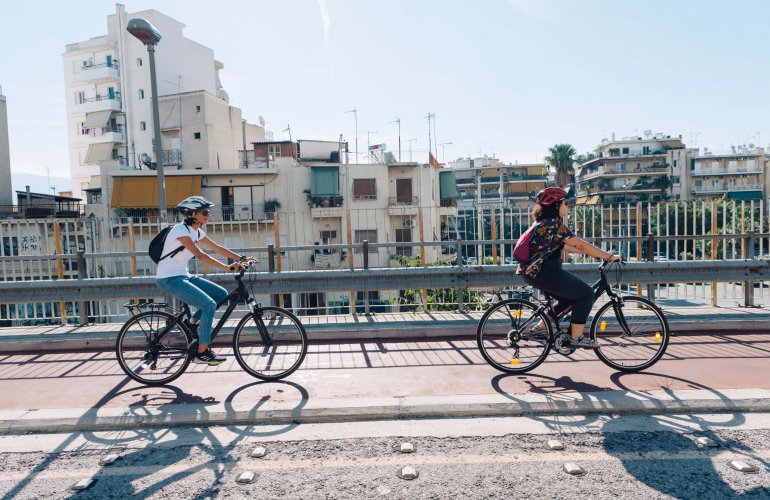 All rivers lead to the Riviera
"This is the longest Metropolitan bike trail in Athens. It stretches all the way to the seaside," Stavros explains as we begin to pedal. As we set out on our trip we get glimpses of Petralona's appeal: elderly locals hanging out on leafy squares, quaint little retail stores, charming townhouses and neoclassical residences bring about a true neighbourhood feel. 
We're making our way through Moschato when I point to what seems to be a riverbed, running alongside the tram lines. "It's a diversion of the Ilissos River! According to Greek mythology, Ilissos was home to the Muses, patrons of the arts," Stavros shouts atop his bike. Athens is built on top of rivers—three of them in fact: Ilissos, Eridanos and Kifissos. I can't help but wonder what the city would look like with rivers flowing through it...
The bustle of busy Theseus Avenue gets louder as we approach Kallithea. "It's best if we get off our bikes and walk across this part. The signage here is a bit tricky for both pedestrians and bikers," Stavros advises us. "I have cycled alongside travellers from all over the world, each with their own habits and practices on cycling, depending on where they're from. Things are no different in Athens, but some extra precaution guarantees that everyone will have a good time," he says as we hop on our bikes again. His adherence to good traffic etiquette and his passion for cycling culture earn our trust.
Culture Meets History
We reach the SNFCC, Renzo Piano's imposing creation and home to the Greek National Opera, the National Library of Greece and a mediterranean 50-acre park. We pass by the Esplanade, the part of the complex that connects the cultural centre with the Faliro seaside. This is where the annual SNF Nostos Festival takes place with a free entrance, as well as wellness meetups all year round. "If you know what sites to look out for, this is also a great viewpoint where you can orient yourself to the surrounding area," Stavros remarks. He points to the Water Plaza, where Athens' biggest summer festivals take place, the Piraeus port, and towards a certain red-painted soccer stadium, home to one of Athens' mightiest teams for those in the know.
We're now pedalling towards the seaside, the fresh breeze already cooling us down when Stavros calls for us to make a turn: "Let's check out the Hellenic Navy Museum!" he exclaims. Also known as Park of Maritime Tradition, we come to a quiet little port which is where some of the most important ships in Greek naval history are docked. I immediately recognise the legendary battleship Georgios Averoff, or as locals like to call it Lucky Uncle George. "Funny name for a she", I think to myself. This once valorous battleship now rests at Palio Faliro and has been turned into a museum open to the public.
Walking along the port's perimeter, we come across a rare sight: Olympias, the exact replica of an ancient Greek trireme, is there. "When not undergoing maintenance it's usually anchored at the front. Today, it was just brought back from the island of Salamina. Every year, during late September, the reenactment of the famous Battle of Salamis takes place on the island of Salamina, and of course the trireme is part of that," the naval guard informs us. Definitely a photo op moment; it's not everyday you get to take a selfie with a Greek mythology-looking giant prop. If you're lucky as we were, you might catch sight of it, too.
The Great Blue
We now start to see people in flip-flops with damp towels over their shoulders biking back towards the city. That can only mean one thing; we're closing in on the first beach of the Athens Riviera. As we are cycling along the coast we've got Marina Flisvos Park on our left, a large leafy park where kids can roam freely —an obvious Sunday favourite of Athenian families. Stavros waves to us to stop and take a look at the chess tables on our right. "The mightiest chess battles take place in the afternoon, gathering an excited crowd of all ages," he says, as we observe two elderly men taking their spots for a warm-up game. 
I wonder if visitors to Athens are aware of how close to the city centre the Riviera actually is.  "The majority of bike renters who come to my shop want to visit the beach," Stavros responds as if reading my mind. Once we set eyes upon the beach we can see how true that is. It's almost October and the crowds are still going strong.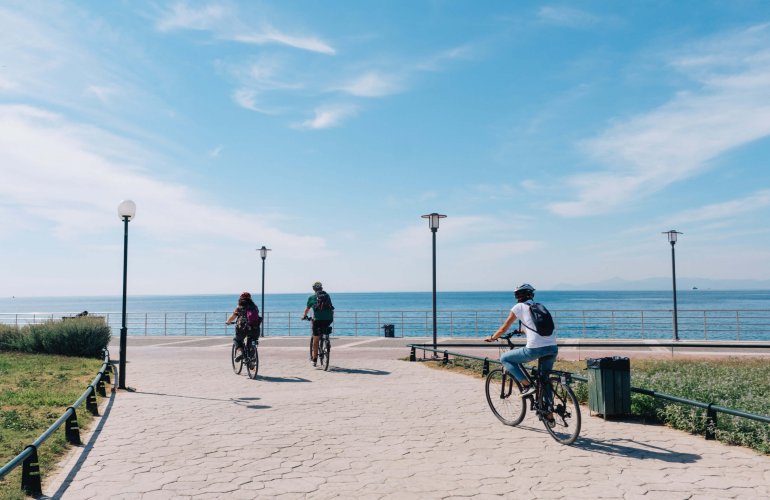 "We usually spend our longest break on the beach. It's not mandatory, of course. I customise the experience depending on what visitors want each time. I once organised a tour for a company, it was a team building activity. The group wanted to sip cocktails at a beach bar instead," Stavros explains. Our small group doesn't join the sunbathers. We reach the free beach at Alimos, where we park our bikes, and stop at a seaside cafe to catch a breath over freddo espressos and iced teas. 
As I'm looking out towards the sea, I contemplate whether I should follow the example of a couple Stavros told us about who, on the spur of the moment, rushed to the nearest swimsuit store before heading for the water. I later regret that I never did. By the time we're heading back, the heat is almost unbearable, and a refreshing swim would have made all the difference. 
Back at Flat Tyres we hand back the bikes and helmets as another small group awaits its turn. Needless to say, there were no flat tires that day.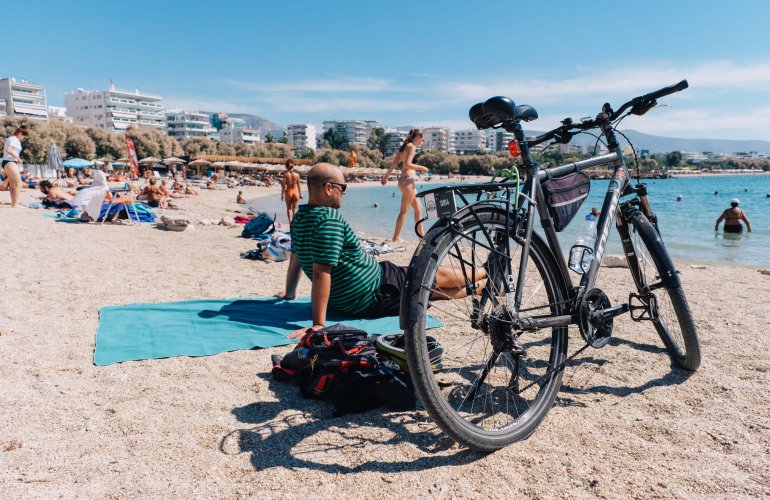 What's the verdict?
This tour leaves you with a good understanding of what cycling in Athens is like. It is especially good if you don't feel confident venturing out by yourself. It would have been nice to get some more info on the residential areas we passed by on our way to the Riviera, their character, and what you can find there. Even so, I definitely see myself riding down to the Athens Riviera again soon. 
Duration:

About 4 hours

Cost:

€35 per person; special offers for 6+ participants

Time:

10 am